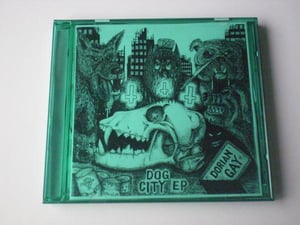 £

1.50 - On Sale
Brand new EP, recorded summer 2009 at Purple Studios in Norwich.
CD comes in coloured 'dayglow' case featuring hand-drawn artwork by Pete.
Limited to 100 and hand numbered. First few orders come with the left over special edition packaging from our release show.
Available in Green, Blue and Pink cases.
Tracklisting:
The Unbearable Shiteness of Being
Dog City
Bowser's Castle
Your Missing Cat is Dead
10 Steps to Middle Class Rebellion
The Great Shatsby
One Came Over the Cuckoo's Chest
For more pictures and info go to...
Dorian Gay @ Myspace
WWHRD Records